Traefik Labs Named 2022 HashiCorp Integration Partner of the Year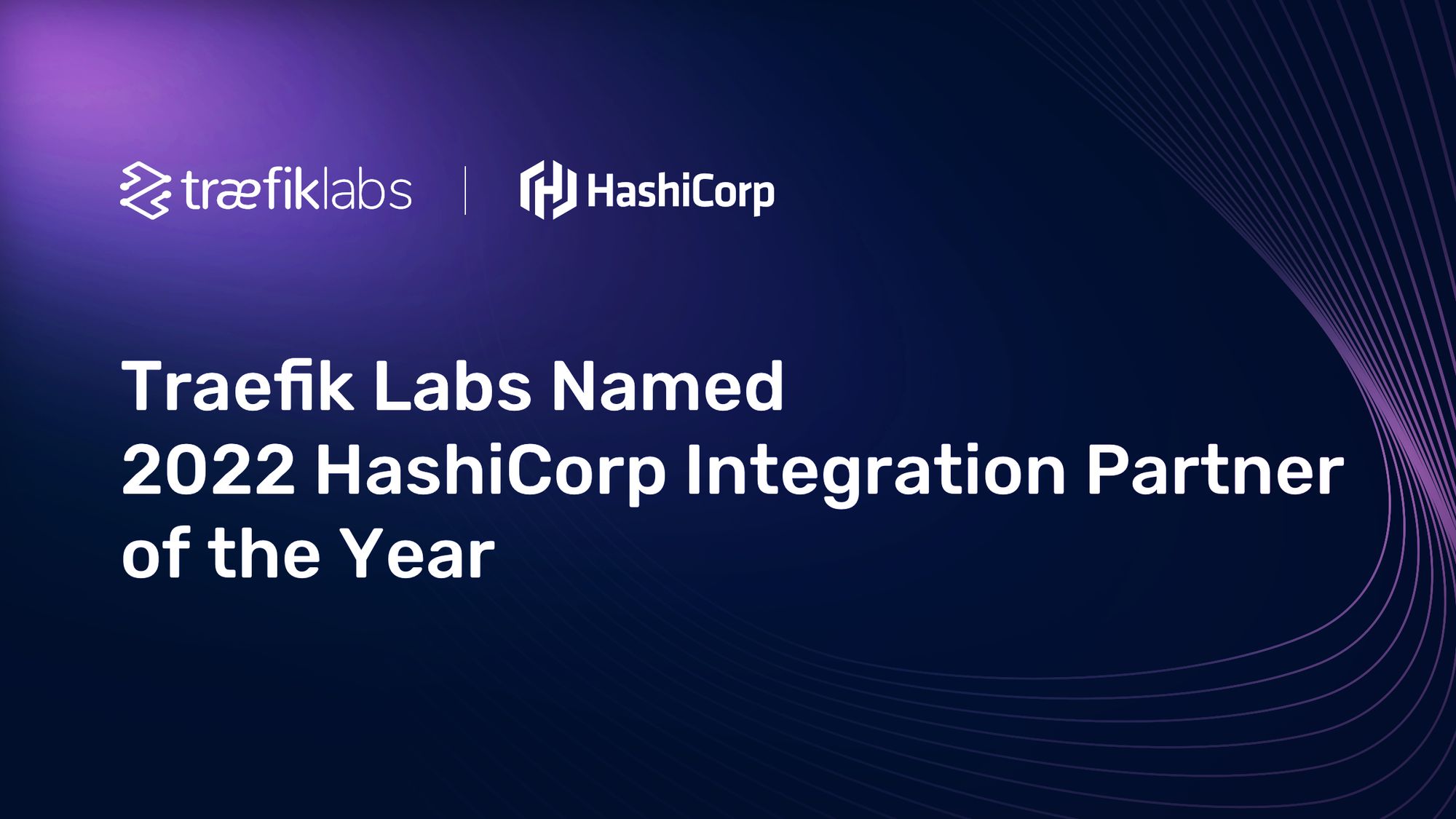 We are thrilled to announce that Traefik Labs has been recognized as the 2022 HashiCorp Integration Partner of the Year and honored to receive the 2022 HashiCorp Technology Partner of the Year award.
Enterprises across a wide array of industries trust HashiCorp to secure and manage their infrastructure in a repeatable, reliable manner, and use Traefik to handle networking stacks with simplicity and security.
Since 2020, Traefik Labs and HashiCorp have been committed to a partnership aimed at delivering our mutual customers and communities with integrated solutions to more simply solve infrastructure and networking complexities. Over the past year, Traefik Labs has deepened integrations with HCP Consul and HCP Vault, and introduced new support within HashiCorp Nomad. Traefik's leading networking capabilities have been integrated across HashiCorp products:
Traefik is the first ingress available in Nomad to simplify network load balancing
Traefik integrates with Consul for dynamic routing configuration through KV store and Consul Catalog
Traefik also integrates with Consul Connect for service mesh capabilities
TLS certificates can be managed in Traefik to use Vault's PKI engine and KV store
The HashiCorp Partner of the Year award honors exceptional partners within the HashiCorp Partner Network for their enduring commitment to building integrations for the HashiCorp suite of multi-cloud infrastructure automation products used by enterprises around the globe.

"We are pleased to award Traefik Labs with the HashiCorp Technology Partner of the Year award for Integrations," said Asvin Ramesh, Senior Director, Alliances at HashiCorp. "Our technology partners are critical for delivering full-stack solutions to our customers. This award recognizes the outstanding contributions and collaborative efforts that Traefik Labs has exhibited over the past year."
"We are very honored and humbled to receive this award and recognition. Representing two of the world's largest open source communities, Traefik Labs and HashiCorp have a unique opportunity to make a lasting impact in the cloud native industry. This award symbolizes the progress we've made thus far together and we look forward to continuing to serve our mutual users for years to come" said Emile Vauge, founder and CEO, Traefik Labs.
The recent integration between Nomad and Traefik is now available in Nomad version 1.3+ as well as in Traefik Proxy version 2.8+ and Traefik Enterprise 2.8. To learn more, watch our recent joint webinar. You can also request a demo if you need the Traefik team to help with specific use cases.