Traefik Labs: Incubating the Future of Cloud Native Networking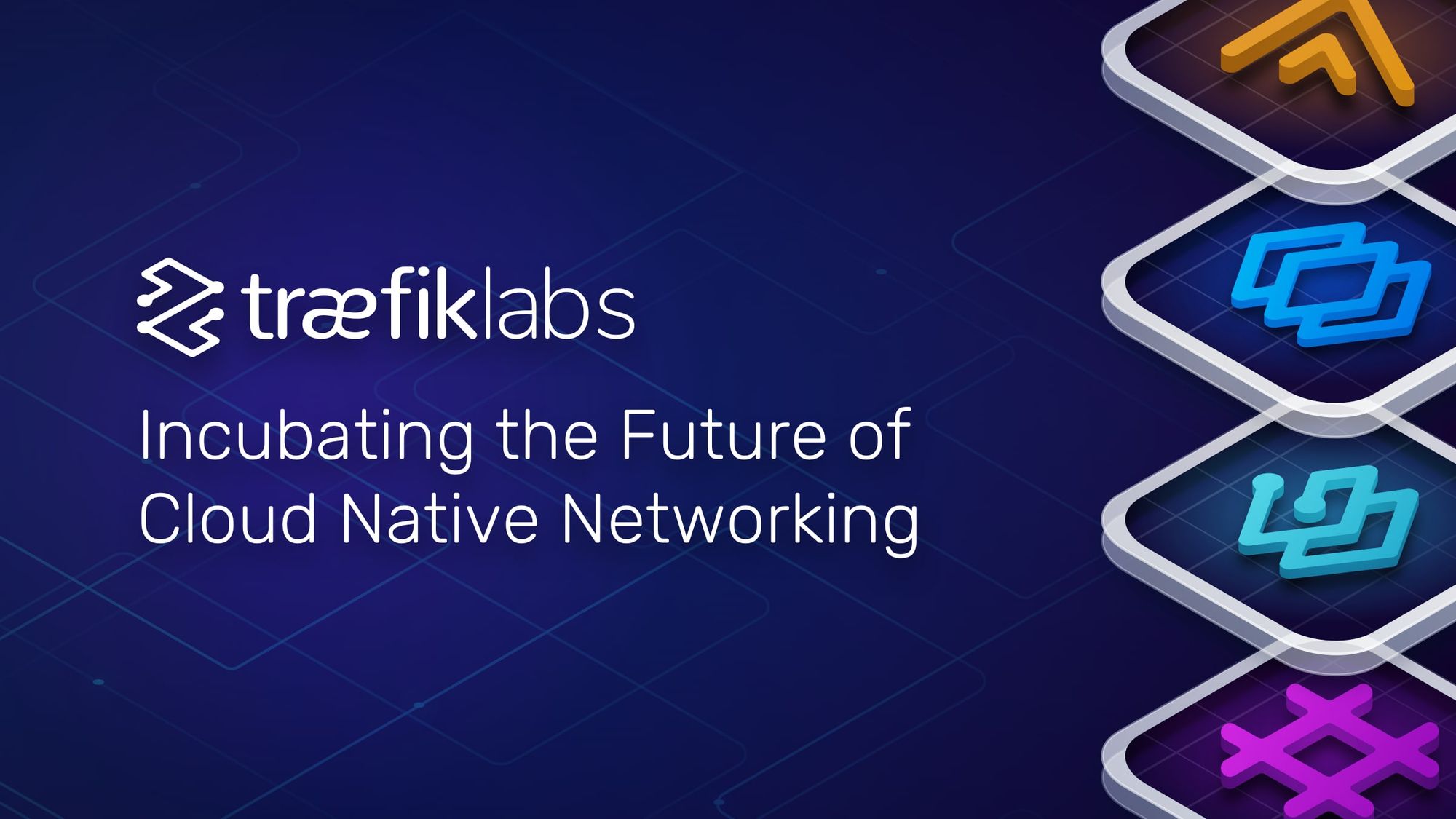 Today is a big day for Containous and the entire Traefik community. As we cross yet another major download milestone with Traefik, we continue to execute and deliver on our mission of simplifying cloud-native networking by launching a new product, our first cloud offering. And in recognition of the impact that Traefik has made to enterprise organizations all around the world, we are very proud to announce a refreshed brand and new company name that pays homage to our open-source roots.
From Humble Beginnings to Great Success
It's hard to believe, but it was five years ago, in 2015, when I wrote the very first lines of code for Traefik. I started developing Traefik because of a basic need for an application proxy that was highly automated, open-source, and designed from the ground up for DevOps organizations and microservices platforms. Following the initial public announcement, a strong community of passionate people quickly gathered around the project. Some of these people eventually contributed code. Some contributed ideas. Countless more used the software and provided feedback. At that time, I could never have imagined that this idea would become a huge success.
Fast forward to today, Traefik just crossed the 2 billion downloads mark, with 30,000+ GitHub stars, more than 500 active contributors from all around the globe, and users from the world's largest companies like Conde Nast, eBay, and Mailchimp. As a result, Traefik is now one of the most popular open-source projects in the world. Unlike other successful open-source projects, Traefik didn't emerge from a large establishment like Google, Microsoft or Facebook. It was willed into existence, built by a dedicated community of people who shared a common need. The success of Traefik is a testament to every single person who joined us on this journey.
A Tribute to our Origins
In recognition of Traefik's momentum and its importance to our mission, we felt it was an appropriate and opportune time to pay tribute to our "heritage". Thus, we are officially changing our company name to Traefik Labs and tweaking our product names to further support the Traefik brand. The product lineup will now include: Traefik Proxy (the original Traefik), Traefik Enterprise and Traefik Mesh (formerly Maesh).
Yet despite the name change, our organization's mission remains unchanged. In fact, it serves as an opportunity for us to better align our products with the broader cloud-native networking challenges we continue to see plaguing enterprises. Traefik is, and will continue to be, the core engine of our product stack, even as the company builds new solutions that deliver additional functionality beyond Traefik. And as we introduce new products and services going forward, our new company name will better reflect the continued role of open source around a strong community as a foundational pillar in driving innovation.
The (Cloud-Native Networking) Struggle is Real
As companies press forward with their cloud-native strategies, many are facing the harsh realization of just how different it is to run and operate containerized applications and microservices at scale. Gone are the days where you could deploy and manage applications one-by-one via a manual, almost artisanal, process. Simply put, automation is no longer a "nice to have", but a requirement in order to realize the promised benefits of faster software releases, better reliability, simpler management, and more.
To address this need, an entire ecosystem of technologies, vendors, and communities have emerged in recent years to drive the DevOps movement and culture, where huge progress has been made in automating compute and storage infrastructure within cloud-native environments. Unfortunately, the same can't be said for networking, where silos of technologies make integration and automation extremely difficult.
In my (pre-pandemic) travels around the world, countless enterprises articulated this same networking challenge when deploying applications as microservices in production. They are investing in container orchestration platforms (on-premises and in the public cloud), and investing in DevOps tools. But they are also desperately looking for that same fundamental transformation in networking, which is becoming increasingly urgent as they accelerate their digital transformation plans due to the pandemic.
Building the Traefik Cloud-Native Networking 'Stack'
With that challenge in mind, our strategy at Traefik Labs is clear: we are creating the simplest, most comprehensive cloud-native stack to help enterprises manage their entire network across data centers, on-premises servers and public clouds all the way to the edge. We have already revolutionized the application networking layer with Traefik Proxy, Enterprise and Mesh, bringing open-source based, cloud-native and simple solutions to DevOps organizations. We are now reusing this successful pattern to expand to the rest of the networking stack.
We're taking a step in this direction today with the official release of Traefik Pilot. Traefik Pilot is a platform that provides monitoring and control of your Traefik Proxy instances through a unified dashboard, serving as the control center for the entire network stack. It also introduces a new hub for hosting user-created plug-ins built on the open-source Yaegi project we've been nurturing in the recent years.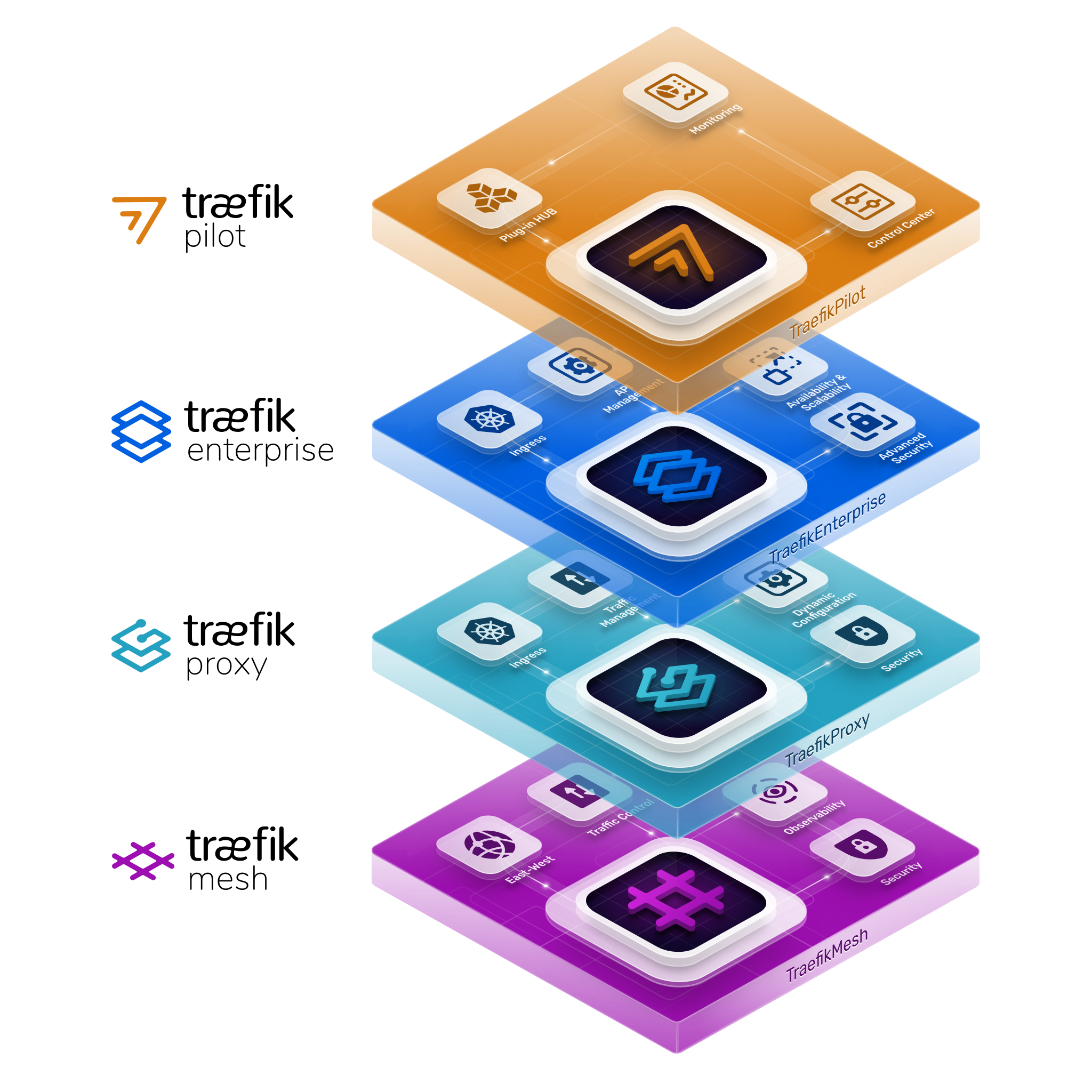 As a result, Traefik Pilot is now a cornerstone piece within the Traefik 'Stack'. By leveraging and integrating our existing products, Traefik 'Stack' represents the single, integrated, networking solution enterprises need for cloud-native applications and microservices. As we look toward the future, the Traefik 'Stack' will soon encompass edge services like Web Application Firewall, multi-region load balancing and much more, to meet the evolving needs of application and operations teams alike.
Lastly, it should go without saying, that the core of this new 'Stack' will forever be open-source. The cloud-native revolution was built on open-source technologies and strong communities. We will continue to take the same simple, open-source, cloud-native approach we used in building Traefik and apply it to everything we do. This is our commitment to our customers and our community, together we will build the future of cloud-native networking.
We'll have a lot more to say about these projects in the upcoming weeks and months, so watch this space for more details. In the meantime, I want to again extend our thanks to everyone who has joined us in our Traefik journey. As always, we're eager to hear from you and we look forward to shaping the future of cloud-native networking together!